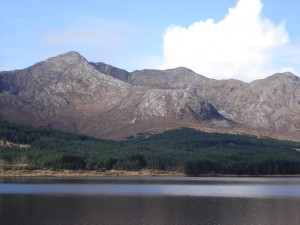 Killary Harbour (An Caoláire Rua) forms part of the Wild Atlantic Way and sits comfortably between County Galway and County Mayo. Accessed from Connemara near the N59, the harbour is actually a fjord that separates the two counties. It's another fascinating point of interest on the Way and well worth a visit.
Killary Harbour is 16km long and is one of three glacial fjords in Ireland. The scenery is of course, stunning. With wide expanses of green hills with mountains as a backdrop, it's another natural wonder in an island full of them. Yet we never seem to get bored of seeing them as they all have something a little different to offer.
The sky is huge here. While there are mountains in the distance, the region is fairly low. Rolling meadows and low hills fill the parts of the horizon not dominated by mountains in a full 360 degrees. The harbour is deep, tranquil and lovely to behold. It's a calm place, full of serenity and history and one we would never tire of enjoying.
On the way to Killary Harbour, you can see Croagh Patrick in the distance. It was here that St. Patrick fasted for 40 days and 40 nights so he could do penance and banish snakes from Ireland.
Back to Killary Harbour and the mountain backdrop changes to Mweelrea to the north, Connach's tallest mountain and Maumturk Mountains and the Twelve Bens to the south. The settlements of Rossroe and Leenaun are nearby and are well worth a visit on your way to or from the harbour.
As well as walking along the fjord, you also have the option to have a guided tour by a local expert or to ride along on a Connemara pony. Either offers a unique opportunity to see the region from a different perspective and to immerse yourself in local culture. Pony riding is popular here and you will see many horses and ponies being ridden while you're wandering around.
If you have an interest in history, the Green Road runs alongside Killary Harbour that you can walk along. This road formed part of the famine relief program in the 19th century, providing the means to get food inland during those harshest of times. It's a 9km walk and is worth the time for the scenery alone, even if history isn't to your taste.
The Killary Harbour part of the Wild Atlantic Way is most definitely Ireland, but could also be in Scandinavia. It's a green land full of light, quiet and amazing scenery and it's no wonder it was chosen as a signature point along the tour.
If you're planning to travel Wild Atlantic Way, holidaycottages.net has a selection of high quality holiday cottages for you to use along the way. Perfect for your Irish adventure!