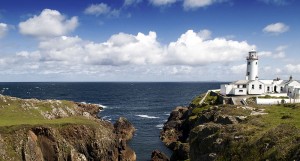 Fanad Head on the Fanad Peninsula is our next stop while we traverse the Wild Atlantic Way. It is located between Lough Swilly and Mulroy Bay on the north coast of County Donegal in Ireland.
This section of the Way covers around 60km and has some of the most amazing coastal views imaginable. I think we're going to be saying that a lot during our tour, so please bear with us!
The Fanad Head section begins in Letterkenny and heads north along Lough Swilly. The gradual incline takes in some of the lovely green countryside of County Donegal until you close to the coast and see Ballymastocker Bay. There are three amazing beaches in the bay and if the sun is shining is well worth a sit down to admire.
These beaches in Ballymastocker Bay have apparently been voted some of the most beautiful in the world. While we can't comment on that claim, we find it easy to believe when the sun is out!
Head north to Fanad Head itself and you see the lighthouse. The Fanad Head lighthouse sits high on the dramatic cliffs looking north into the Atlantic Ocean. It's an impressive sight that again, has apparently been voted the second most beautiful lighthouse in the world after the Lindau Lighthouse in Germany.
Whatever the truth of that claim, the absolute truth is that the lighthouse and the region is breathtaking. If you want to see Fanad Head from a different perspective, there are boat tours run by a charter company from Rathmullan. Well worth a try if you want to see the Head from the sea.
Heading west to the Rosguill Peninsula, you're faced with some of the most rugged coastline of the Wild Atlantic Way. Follow the road further west and around the coast to Horn Head for a perfect example of nature at work and the awesome power of the sea as waves crash against the coast even on the calmest day. It's something to be see and photographed extensively!
From here you can see the old signal tower and if it's clear enough, Tory Island that lies 14km off the coast directly opposite.
The Fanad Head part of the Wild Atlantic Way offers spectacular scenery, amazing views, a glimpse of the raw power of nature and some of the best beaches anywhere in the world. For those reasons alone it's well worth a visit. Holidaycottages.net has a wide range of holiday accommodation dotted along the Irish coast, so check out our listings for holiday cottages nearby!
Join us next time as we continue from Fanad Head to Downpatrick Head along the Wild Atlantic Way!