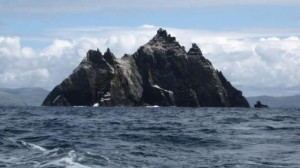 Skellig Viewpoint in County Kerry is an excellent opportunity to take in some of that amazing Atlantic coastline while also viewing the Skellig Islands. Skellig Viewpoint forms part of the Wild Atlantic Way in County Kerry and is rapidly becoming one of the highlights of the route. The islands have always been a local attraction with people coming from all around to watch the birds and to check out the archaeology.
There are three sandstone rocks that make up Skellig Islands but only two are named. Skellig Michael and Small Skellig stand proud against the battering of the Atlantic Ocean and are what draws so many visitors each year. Skellig Michael is the archaeological site, with an ancient monastery on it. Michael is a UNESCO World Heritage Site.
To support the site, the Skellig Experience Centre was built to tell the story about the islands and the monks that lived upon Michael. It also discusses the seabirds on Small Skellig and the lighthouse nearby too, offering a complete overview of this loveliest of regions.
Small Skellig is for the ornithologists. It plays host to the second largest colony of gannets in the world and the Ring of Kerry is never without a pair of binoculars or two watching what's going on.
If you're lucky and the weather is agreeable, boat trips run regularly out to the Skellig Islands from the mainland. It takes around 45 minutes to get there and you can climb the 600 steps from the dock to the monastery if you're feeling energetic enough!
Your boat will likely also make a circuit of Small Skellig to take a look at the island and the birds on it. It's a great way to get up close and personal with this Irish landmark and offers some amazing scenery to boot.
County Kerry has a lot to see and do in its own right too. It even has its own "Kerry Way" which is a 214km long path that loops around Killarney. Kerry Way forms part of the Wild Atlantic Way but is a walkable, self-contained section.
The Kerry Way passes through Glenbeigh, Caherciveen, Waterville, Sneem and Kenmare, each of which is worth a visit. It takes approximately nine days to complete if you don't stop too long admiring the view, absorbing Irish culture and sampling the local produce!
The Wild Atlantic Way has been designed to take in some of the very best of Ireland and Skellig Viewpoint is certainly one of them. Add in the Kerry Way and you have a great excuse to stay even longer to enjoy everything Ireland has to offer.
If you're looking for a quality holiday cottage, holidaycottages.net can help!