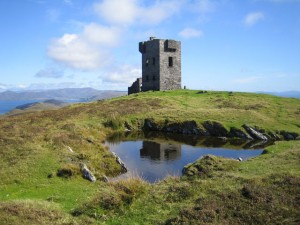 Dursey Island, or Oileán Baoi in Galelic meaning Yellow Island, is an inhabited island off the south west coast of Ireland. It's set west of County Cork and forms part of the Beara Way walking trail and the much larger Wild Atlantic Way.
Dursey Island is a real island separated from the mainland by a narrow stretch of water called the Dursey Sound. The island is only 6.5km long and 1.5km wide and is home to a few human residents and hundreds of thousands of birds and sea life aplenty.
To get to Dursey Island, you take Ireland's only cable car. It stretches from the Beara Peninsula out over the sea to the island itself. This cable car is a big draw to tourists as it's also one of the few in Europe to go over the sea. The car is a vital link to the mainland as the sea around the island has some very strong tides.
The island itself has been inhabited on and off since prehistoric times. Several prehistoric artefacts have been found on the island, including some carved stones, a dwelling and a stone enclosure.
Later, a castle, church and graveyard were built on the island, the ruins of which are still present. The owners of the castle, called Dunboy Castle were apparently killed during the Nine Year's War in what became known as the Dursey Massacre.
Later still, a signal tower was built to warn of French ships during the Napoleonic Wars and a large sign spelling out "EIRE" was put close to the remains of the tower to warn World War 2 pilots that they were flying over neutral Ireland.
Standing on the hill by the ruin of the tower in good weather, it's possible to see the Skellig Islands to the north and Mizen Head to the south. These are two other signature points along the Wild Atlantic Way.
Walking either the Beara Way or further along the Wild Atlantic Way will bring you directly onto Dursey Island. After an exciting cable car ride, you have the whole island to explore. While people do live on here all year round, there are no facilities. No shops, cafes, pubs or anything. Although there are holiday homes that can be rented during the summer.
Dursey Island is an excellent stop on your tour of western Ireland and along the Wild Atlantic Way. It's yet another example of dramatic coastline, fantastic wildlife and the hardiness of local people. Dursey is a desolate place, yet Irish people still endure to call it home. When you see it first hand, you know why!