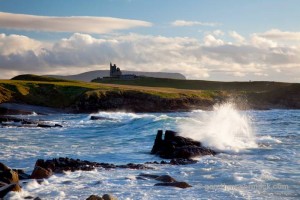 The Wild Atlantic Way is a dramatic 1500 mile coastal route on the west coast of Ireland. It stretches from County Donegal to Kinsale, County Cork and is one of the most spectacular routes anywhere in the world. It takes in the Atlantic coastline, the Irish countryside and more spectacular scenery than you can shake your camera at.
The Wild Atlantic Way includes 15 signature points. They are:
Malin Head

Fanad Head
Downpatrick Head
Skellig Viewpoint
Old Head of Kinsale
Keem Strand
Killary Harbour
Cliffs of Moher
Loop Head
Mullaghmore Head
Radharc na mBlascaoidí – Blaskets View
Sliabh Liag – Slieve League
Sliabh Liag
Derrigimlagh
Dursey Island
Mizen Head
Each offers some fantastic vistas of either the Atlantic Ocean or the lovely Irish countryside. The road between them is in excellent condition and is very well signposted. A lot of effort has gone into making the Wild Atlantic Way a proper tourist destination and it shows.
Following the way, you traverse seven Irish counties, hundreds of towns and villages, some unexpected sights, heritage sights and get to experience more of that famous Irish hospitality than you will anywhere else.
Driving the Way is definitely the way to go. There isn't a pothole in sight, the roads twist and turn, include long straights, ascents and descents and provide a driving experience to be adored. The scenery isn't bad either!
The Wild Atlantic Way is the longest established coastal road in the world and despite it being 1500 miles long, will seem like it's over in a flash. The Way has fifteen distinct highlights which we will mentioned in each of the following fifteen posts.
However, including the hotels, rest stops, restaurants, scenic areas and markets, there are as many places to see as there are miles to drive.
Of course, you don't have to drive it. There's no rush here. There's no urge to complete. There's just a relaxed way of life that is content to experience life as it happens. You could cycle, bus or walk it if you preferred.
Given the sheer size of the Wild Atlantic Way, we would suggest planning your route carefully, including some of our holiday cottages along the route. Do yourself a favour though, don't rush. Don't try and pack the entire journey into a week. Do it the Irish way. Take your time, see the sights, experience the life and get to your destination when you're good and ready!
For the next fifteen posts we will be highlighting a signature destination along the Wild Atlantic Way. Join us next time for the first instalment, a visit to Malin Head!