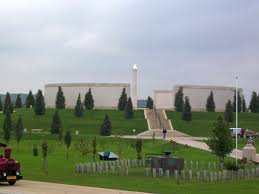 Ignoring the wind and rain for a minute, autumn is a fantastic time of year. It's nature's last gasp before hibernating for winter and the last opportunity to show us the beauty of the natural world. That gives us plenty of opportunity to enjoy the final days of life before the big sleep.
So the next two posts are celebrating the very best places in the UK to see autumn in all its glory. Each of these places has one or more holiday cottages within easy reach. If you're enjoying a holiday this time of year in one of them, you should check one of these locations out!
The National Arboretum

The National Arboretum in Westonbirt, Gloucestershire is a great place to visit any time of year, but autumn especially so. The grounds have been deliberately planted with a range of oaks, Japanese maple, lime, birch and other species to provide a range of colours and textures.
Stourhead Gardens

Stourhead Gardens, near Warminster, Wiltshire is a stunning country estate managed by the National Trust. The landscaped grounds have follies, outbuildings, a temple or two and acres of landscaped grounds. There are also waymarked trails crossing the entire property providing some excellent walks through the forest.
Grizedale Forest

It's hard to select one forest over the hundreds of others, but Grizedale Forest in Cumbria has to be one of the best. With a wide range of trees, hiking and biking trails, fantastic views of Windermere and Coniston Water and the proximity to the mountains, this forest really does take some beating at any time of year. Autumn makes it especially pretty.
Castell Coch

Castell Coch near Cardiff is a fantastic gothic castle set in lovely beech woodland. With stunning views of the surrounding hills, multi-coloured forest, lots of countryside and the castle itself to walk around, this location has plenty to offer. We have a few holiday cottages nearby too!
Alice Holt Forest

Alice Holt Forest near Farnham, Surrey is another fantastic place to experience autumn in all its glory. The forest once provided oak for the Royal Navy and was also the set for the early scenes in Gladiator. It is covered in hiking and biking trails and covered in all kinds of trees that provide a lovely vista this time of year.
Sheffield Park and Garden

Sheffield Park and Garden, near Haywards Heath in Sussex is an amazing place to visit and spend time. There are dour lakes, a wildlife area, cricket pitch and some villages dotted around the area. It's an amazing place to enjoy some autumn sunshine.
Holidaycottages.net will be bringing you more fantastic autumn destinations in a couple of days. Join us on Thursday for the concluding post!