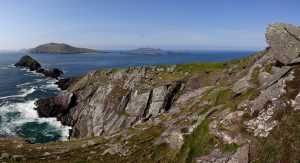 Blaskets View, or Radharc na mBlascaoidí, on the Wild Atlantic Way is another signature point that stands on its own merit as well as being part of the longest tourist trail in Ireland.
Officially known as the Blasket Islands, this signature point of the Wild Atlantic Way can be found at Dingle Peninsula, County Kerry. The islands are the most western part of Europe and the last stop until the North American continent to the west.
As the crow flies, the Blasket Islands are only 1km from land. However, the direct route is regarded as too dangerous to use, so a 5km loop is necessary to get there safely. It is believed that the islands were once part of the mainland and gradually separated over millions of years.
The largest of the islands, Great Blasket was inhabited until 1953. At its peak, there were 175 people living there. The earliest record, from 1593, has people living and working on the island and several records between then and now support fairly constant habitation.
The village was small and was home to very hardy folk who made their living from land and sea. There was no electricity, no running water and no modern comforts. As far as we can tell, the people only left the island once there were not enough strong men in the families to row the boats to the mainland.
The islanders were literary people, with over 40 books having been published by various residents. Some included the first written work of oral Gaelic histories and culture.
Modern visitors to the Blasket Islands can take in Blaskets View. Look west to the Americas like thousands before you and look all around to see dolphins, whales and seabirds by the hundred. It's an eerie place that evokes contemplation but is well worth the visit.
Back on the mainland, you can then visit the Blasket Centre. The centre is dedicated to celebrating the life and history of the islands and the islanders and makes for a good stop on your tour.
The highlight has to be The Journey. A stained glass piece that uses 300 glass panels and weighs over 3 tons. There are also examples of the islanders literary accomplishments too that give an incredible insight to the life they led while still resident on Blaskets.
Blaskets View and the Blasket Islands are a poignant stop along the Wild Atlantic Way. Not only is the landscape and seascape dramatic, there is a real insight to a part of Irish life you wouldn't normally be able to explore. For this alone, it's a must-see while you're here.