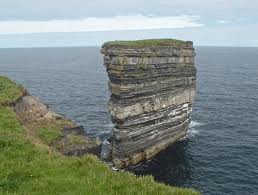 Continuing along the Wild Atlantic Way route having visited Fanad Head, we move on to Downpatrick Head. Another part of an amazing coastline on the northern edge of Ireland.
Located a couple of miles north of Ballycastle village in County Mayo, Downpatrick Head is an impressive area of coastline that includes a lovely coastal walk as well as drive. Downpatrick Head itself is a rugged landscape that includes cliffs, a rock stack and thousands of wild birds.
Highlights includes the ruins of an ancient church, a holy well and a stone cross. All remnants of what was a church of St. Patrick. It is believed that St. Patrick himself founded this church, so plays an important role in local and national religion. You can often see pilgrims wandering around the ruins, walking in the footsteps of a saint.
There is a statue dedicated to St. Patrick in the grounds of the church. It was built in the 1980s to replace an original that had stood for decades before.
From Downpatrick Head itself, when the weather is agreeable, you can see the Staggs of Broadhaven. This is a small collection of islands beyond the solitary stack just off the coast. The big stack is called Dún Briste (broken fort) and stands hundreds of metres tall, holding out alone against the might of the Atlantic Ocean.
From a purely aesthetic perspective, the setting is amazing. The wild sea crashing against the solitary rock stack circled by seabirds all day long. From a geological perspective, you can see the layers and layers of rock from the various ages of the earth. If ever you wanted to see how the earth around you is formed, this is it.
Near Downpatrick Head is Céide Fields, a Stone Age field system and visitor centre. The location shows the old fields, ancient stone walls, settlements and tombs. All have remained in fantastic condition thanks to the peat soil in the area.
While not as old as Dún Briste, it shows how long this green and pleasant land has been home to humans and how we have constantly tried to mould the landscape to our own needs. It's well worth a visit if you have the time.
Downpatrick Head is an amazing piece of landscape included within the Wild Atlantic Way. It's dramatic, isolated, ancient and historic. It has something for everyone and plays an essential part of the whole that is the Way.
Remember, Holidaycottages.net has a huge selection of holiday cottages in the north of Ireland. Check them out if you're planning to walk the Way!
Join us next week as we visit Skellig Viewpoint!