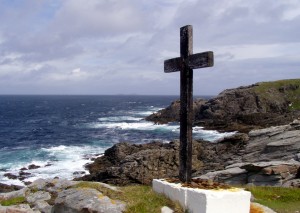 The first stop on our tour of the Wild Atlantic Way is to Malin Head. Located on the Inishowen Peninsula, it's Ireland's most northerly point and the exposure creates some exceptional views.
Malin Head in County Donegal has one of the most dramatic coastlines of anywhere. It's famous for the coastal landscape as well as lovely golden beaches and the Way takes in some of them from the outset.
Malin Head is the headland that features Banba's Crown, the actual most northerly point. Banba was a mythical Queen of Ireland and features in local folklore. The Crown itself features a weather station, part of the BBC's Shipping Forecast network.
The Crown also features The Tower. The Tower is a now abandoned building built in 1805 for the Admiralty and was later used as a signal station to communicate between Europe and the USA. It was one of the most important data links between the two continents for many years until undersea cable was laid to provide telephone connections.
This is a great spot for spending time, having a picnic, enjoying the view, taking pictures of doing whatever it is you like to do. It's the most northerly point in Ireland, next stop north is Greenland!
Just north of Malin Head is Inistrahull Island featuring a working lighthouse that still illuminates the night sky every 30 seconds. The lighthouse is over 200 years old and is one of the last surviving working houses anywhere in the UK.
East of Malin Head is Ballyhillion beach. Ballyhillion beach is a sequence of raised beaches, a legacy of when County Donegal was compressed under a glacier during the last ice age.
Travel along the beach across some of the largest sand dunes in Europe to Five Finger Strand from Knockamany Bens and see the wreck of the Twilight at low tide. It sank on its way to Derry in 1889 and is a focal point for photographers and sightseers alike.
This first step on the Wild Atlantic Way sets the scene nicely. There is all the dramatic coastline you can handle, there are historic buildings, lovely beaches, nice places to spend time and lots to see and hear. It's an ideal segue into seeing more of Ireland and the best way to start a tour.
If you're planning to travel the Wild Atlantic Way or visit Malin Head, holidaycottages.net have some quality accommodation within easy reach. Check them out!