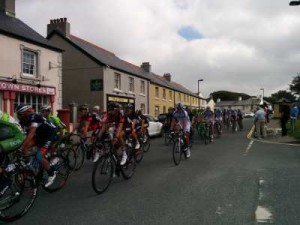 Continuing on from our previous post, we're following the route of the Tour of Britain as it takes in the very best of the UK. This post continues the Tour from stage 5 to the finale at stage 8 in London.
If you're a keen cyclist or just felt inspired by what you saw, holidaycottages.net can help. We have a huge selection of high quality holiday accommodation across the UK. It's easy to build your very own Tour, or follow the real one. It's entirely up to you!
Stage 5 Exmouth to Exeter

The Exmouth to Exeter stage of the Friends Life Tour of Britain lasted for 177.3km and took in the best of Devon and Dartmoor. If you like your cycling, walking or just being outside, this is the stage for you.
The riders began in Exmouth centre, rode out to Dartmoor, over Haytor, around Tavistock and back round to Exeter city centre. The stage included some of the best scenery in the West country too.
Stage 6 Bath to Hemel Hempstead

Stage 6 brought us back into the heart of England from Bath city centre to Hemel Hempstead over 205.7km. The route passed Trowbridge, Hungerford, went around High Wycombe and ended in Hemel Hempstead, north of London.
This was another scenic route that showed a completely different aspect of our country. Rolling hills, forests, across the M4 and into the outskirts of the capital. All places ideal for a weekend break in a holiday cottage as well as several hours on the bike!
Stage 7 Camberley to Brighton

The penultimate stage of the Tour of Britain saw us shift to Hampshire for the start that took us from Camberley, 226km across the south of England to Brighton to finish in the town centre.
This was another fantastic route that took in the South Downs, West Sussex, looped around Eastbourne, went through Lewes before heading into Brighton. Any of these locations offer fantastic cycling, walking and sightseeing and is well worth a visit!
Stage 8 London

The final stage of the Tour of Britain was split into two parts. The first was an individual time trial through the city streets while the second part was a circuit race. The TT part lasted for 8.8km while the circuit 88.8km.
Our capital should need no introduction. It's full of culture, interest, attractions and things to see and do. We even have holiday cottages within the city too!
The Tour of Britain was a great way to see parts of our country we wouldn't normally get to see. If you were inspired by any of it, use the search function on our site to find a holiday cottage near your point of interest. We have thousands of them to choose from!