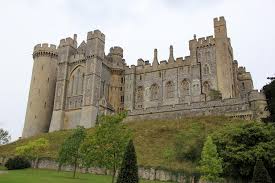 Holidaycottages.net has a wide variety of lovely holiday cottages spread across West Sussex. We have properties near towns, villages, by the sea, in the countryside and just about everywhere else you could think of.
But when you're there and you feel like a day out, what can you do? This quick list of the top attractions in West Sussex should help.
Arundel Castle and Gardens

Arundel Castle and Gardens is the official home of the Duke of Norfolk and is over a thousand years old. Located in Arundel, near Littlehampton, the castle, gardens and chapel are full of history as well as beautiful flowers, statues and architecture. A great day out for all the family.
Chichester Cathedral

Chichester Cathedral is over 900 years old but doesn't look a day over 500. It's an excellent example of how places of worship should be, open, welcoming and involving of everyone regardless of faith. The cathedral has many works of art, fantastic architecture, lots of history and always has an event or two going on.
Wings Museum

The Wings Museum is a step into more recent past with a range of aircraft from the Second World War. Exhibits include aircraft seen in many recent TV and film productions, as well as firm favourites from the Battle of Britain, the Blitz and more. Despite the subject matter, it's a cheerful, interesting place to visit with lots going on.
Picturedrome Cinema

The Picturedrome Cinema in Bognor Regis is cinema as it used to be. It's a classic, Grade II listed building that echoes the type of place enjoyed by thousands during the heyday of cinema. Despite being dedicated to retaining that original character, it's all digital with surround sound, so the movie watching experience is still top notch!
Huxleys Birds of Prey Centre

Huxleys Birds of Prey Centre near Horsham is a fantastic opportunity to see some of the world's most beautiful birds of prey up close and personal. Meet and greet the birds, watch them in action and even have one on one time with them for a little extra. If you're at all interested by birds, this is a must-see.
Goodwood Motor Circuit

No trip to West Sussex would be complete without visiting glorious Goodwood! This one is for the petrol heads. Drive cars around the track, watch the Festival of Speed and so much more from within the circuit. It's full of history, things to see and do and offers the kinds of opportunities that don't come around very often!
If you're staying in one of our holiday cottages in West Sussex, there are plenty of things going on. These six examples are just a few of many and all are well worth your time. Let us know how you get on by leaving a comment below!