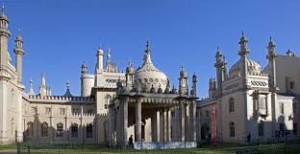 East Sussex includes towns such as Hastings, Brighton, Eastbourne, Worthing and many more. It's a lovely part of the country that has beautiful countryside, dramatic coastline and a huge variety of culture, attractions and things to do.
If you're staying in one of our East Sussex holiday cottages, these attractions are only ever a short drive away.
Glyndebourne

Glyndebourne is one of the most established outdoor opera venues anywhere in the world. It's also one of the best. Even if you're not a big fan of opera, it's a great day out. Picnic in the park, watch a performance, toast a glass of champagne during the interval and enjoy a lovely day of quality performance and class. What more could you need?
Seven Sisters Country Park

The Seven Sisters are elements of the white chalk cliffs that make up some of the park. The country park itself is spread over 280 hectares of land that offers the opportunity to walk, cycle, fish, watch wildlife and take in the fantastic scenery. Located near Seaford, it's a great way to spend a day.
Royal Pavilion

The Royal Pavilion in Brighton was built for King George IV during the 18th and 19th century. It's modelled using oriental architecture that seems out of place in Brighton, but acts as a beacon for an earlier time. You can wander the gardens and look around inside, seeing the Royal Pavilion as it was when it was first opened. It's a great way to while away an afternoon!
Drusillas Park

Drusillas Park in Alfriston East Sussex is a zoo and activity centre ideal for children of all ages. The animals are well cared for, the enclosures well maintained and everything has a quality feel about it. There are rides, play areas, educational themes, feeding opportunities and more. If you have little ones, this is an excellent place to visit.
Beachy Head

No visit to East Sussex would be complete without viewing Beachy Head. Located near to the Seven Sisters, Beachy Head is an area of outstanding natural beauty and you only have to see it to see why. Walk, cycle, watch and marvel. It's a simple place full of simple beauty but you'll never forget it!
East Sussex is a lovely part of the country to visit and holidaycottages.net knows it. That's why we have dozens of the highest quality holiday cottages dotted around the county. It's lush, green and vibrant and has all the characteristics we look for in a holiday. Try it yourself and let us know how you enjoy it!