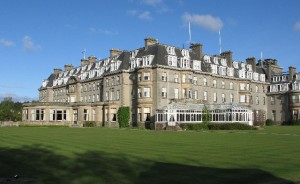 If you love your golf but don't have the budget to stay at the amazing Gleneagles Hotel, we might have the answer. Stay in one of our lovely holiday cottages that are within a short drive of the course and have the best of both worlds. Enjoy Scotland and the golf at the same time!
Gleneagles is located in Auchterarder in Perthshire. It's near the A9, 40 miles or so north of Edinburgh. Even when the Ryder Cup isn't on, it's a busy and expensive place to stay. That's great if you can afford it, but not so much if you can't.
However, staying at the hotel isn't the only way you can enjoy the golf. Sure you can watch from home on TV, but there's nothing like being there and watching the pros in action. Why not try staying nearby in a luxury holiday cottage? Despite the popularity of the Ryder Cup, we still have a few vacancies, so it's not too late yet!
If you have the time to get to Scotland in time to watch some of the golf, we have the cottages to suit. We have a range of high quality holiday accommodation spread across the entire country of Scotland with many in Stirlingshire, Perthshire and Fife. Many within a convenient drive of the Gleneagles Hotel where the Ryder Cup is being held.
Despite the popularity of the event, there are still some cottages with space, so you could easily make a booking and get combine a relaxing weekend in Scotland with a great view of the golf. What more could you want?
Currently, we are also running a special offer on last minute holiday cottages. Find a suitable location, find a great holiday cottage and you could save up to 30% off the usual price. That's an offer too good to miss!
If you have a family to entertain too, there is a lot to do in that part of Scotland. You have Edinburgh in one direction, Glasgow in the other, Stirling is only a few miles away and then hundreds of square miles of amazing countryside in-between.
Even without the Ryder Cup to take up your time, you're never short of things to do in this part of the United Kingdom.
Move fast though. The Ryder Cup started Sunday, (21st September) so you don't have long to make a reservation and get in on the action. Find yourself a great little getaway today by using the interactive map or the search function on the left. The Ryder Cup awaits!