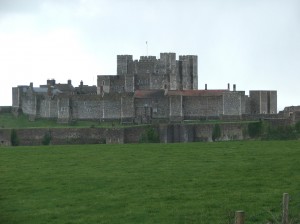 Enjoying some autumn sunshine in Kent is a great way to spend October or November as far as we're concerned. The garden of England has a lot to offer and plenty of historic buildings to see. It's also easy to get to, not too busy at this time of year and has something for just about everyone.
If you're planning to stay in one of our lovely Kent holiday cottages and are looking for inspiration, this is the post for you. We have a range of historic buildings suitable for the entire family. All designed to offer a great day out in Kent!
Dover Castle

Dover Castle is a fantastic place to visit if you're staying anywhere in the area. It's a 12th century fortification that has seen action from the day it was first built until a mere 70 years ago. It's an amazing example of castle building in great condition. Regular events are held to bring history to life spanning the entire history of the location. It's a must see!
Ightham Mote

Staying on the subject of history, another Kent highlight is Ightham Mote. It's a 14th century moated manor house that has been restored, retained and renovated to offer a glimpse into Tudor life. Outside are landscaped gardens, an orchard, woods, lakes and more.
Hever Castle

Hever Castle is just another example of a fine Kent historic building. The castle was home to Anne Boleyn and was built in the 13th century. The modern castle is moated and kept in fantastic condition throughout.
It's hard not to recommend these buildings to anyone staying in our holiday cottages throughout Kent.
Canterbury Cathedral

Canterbury Cathedral has to be one of the most recognised buildings in the county. Originally built in 597 A.D. it is the seat of the Archbishop of Canterbury and a thriving, interesting church. As well as the historic building, there is a lot of cultural interest, organised events and displays and plenty to see and do.
Chartwell

Chartwell was the home of Sir Winston Churchill from 1924 until his death. The house is now run by the National Trust and much of it looks the same as it did when the great man lived there. As well as the house, there are landscaped gardens, a lake, woodland, a playhouse and more. It's a great day out for all the family!
We have holiday cottages throughout Kent, so if you're staying with us, why not combine it with a visit to one of these buildings?